by
Clark Riley
Baltimore, Maryland
(410) 821-1584

---
Web Site Creation and Management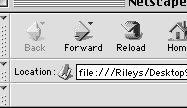 Starting at $5/page

From simple one-page layouts to full-site, long term management, I have nearly ten years web experience. Pages are coded in pure HTML. All graphics are produced and optimized in-house. I am flexible working with your ISP for e-commerce and other web services.


For further information or quotation, please contact Clark Riley. (Click on this line.)

Samples and consultations available. Email or call (410) 821-1584.